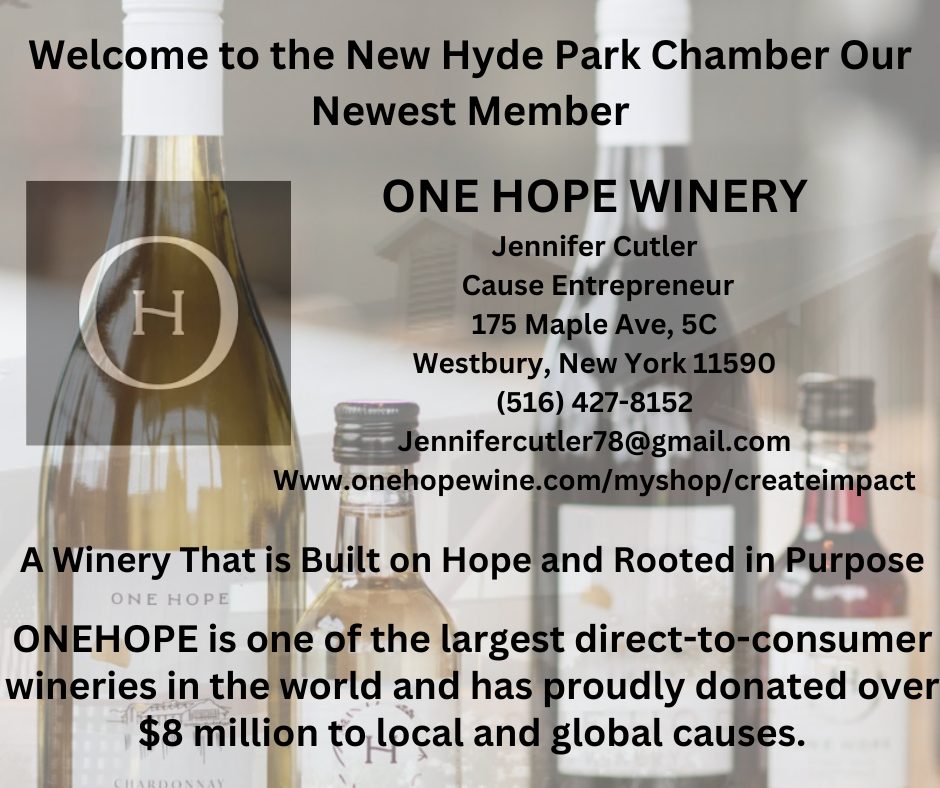 Welcome to The Greater New Hyde  Park Chamber of Commerce
Welcome to the place where new opportunities are born.
Connect to a strong, vibrant business community with limitless possibilities.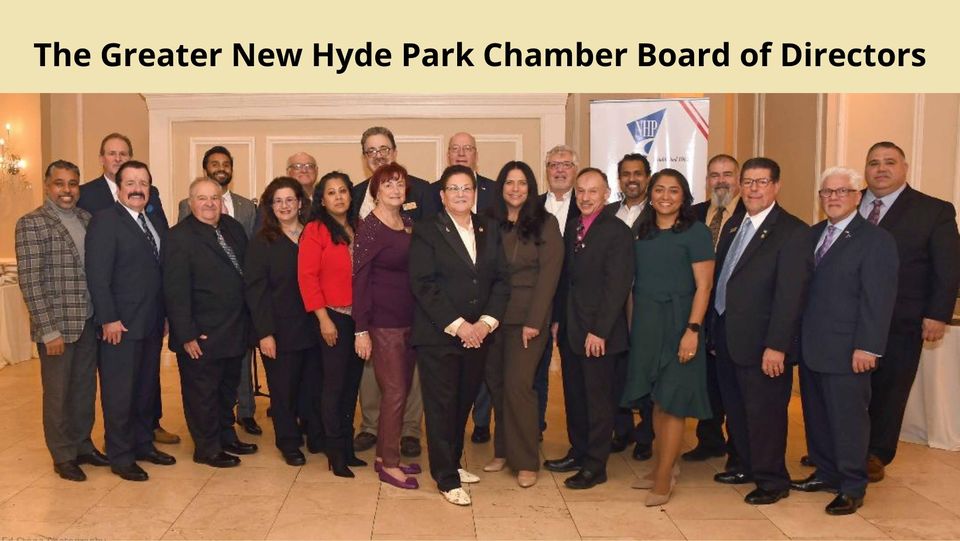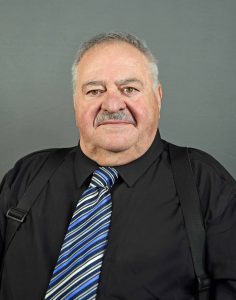 Congratulations to this year's
2022 Business Person of the Year
Ed Stone
Ed Stone Photography
Click here to read his bio
Click here for more pictures of our Honoree
Benevolence Gives Back
On Friday January 13th members of the North Hempstead Veterans Committee, Town Supervisor Jen DeSena and some of the Chamber Board Members presented the second collection of gift cards, $1,475 to Joe Sledge from the VA Medical Center in Northport. Our total collection was $7,800 in supermarket and pharmacy gift cards.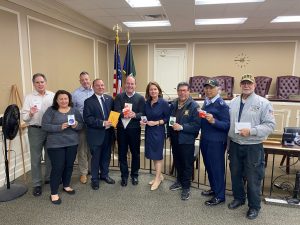 The Chamber gives back to the community
The New Hyde Park Chamber of Commerce presents a $4700.00 check to John Tanenbaum of the Garden City Park Shopping Center for the purchase of a park bench to be installed at the shopping center. The check was taken from a PSE&G grant given to the chamber.
Attending this presentation is North Hempstead Town Councilman Dennis Walsh, Peter Caputo, NYS Assembly Women Gina Sillitti, Jeanette Frisina, John Tanenbaum of Castle Bay Management, Chamber Board Cheryl Fajardo, Rich DeMartino, Daniel Stravino, Ed Stone, photographer, and Kay Farrell.
Written by Ron Shapiro, Crown Trophy /  Chamber Marketing Committee
Photo courtesy of Ed Stone Photography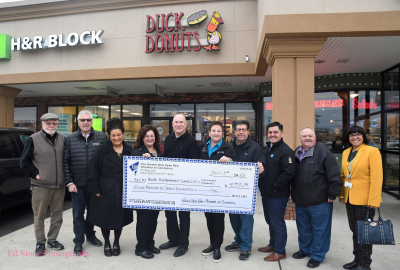 VA Medical Center in Northport
On Wednesday Dec 21 the North Hempstead Veterans Committee under the office of town Supervisor Jen DeSena presented the collected supermarket and pharmacy gift cards along with crocheted blankets to Joe Sledge of the VA Medical Center in Northport.  The blankets were donated by  members of the Blankets of Love at Clinton G Martin center in New Hyde Park.
The tremendous generosity of our community raised $6,325 in gift cards.  This will make the holidays a lot brighter for Veterans at the Medical Center.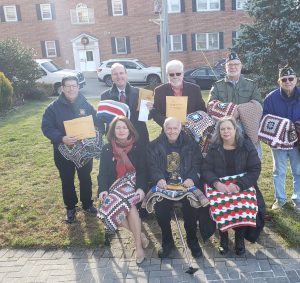 Nassau County Firefighters
Wounded Warriors Fund
On December 19th members of the New Hyde Park Chamber of Commerce Benevolence Fund made a donation of $1,000 in support of the Nassau County Firefighters Wounded Warriors Fund.
This is an annual fund raiser to support the Veterans at the Walter Reed National Military Medical Center in Bethesda Maryland.
The Firefighters make several trips to Maryland with clothing and supplies for the Veterans in support of their recovery.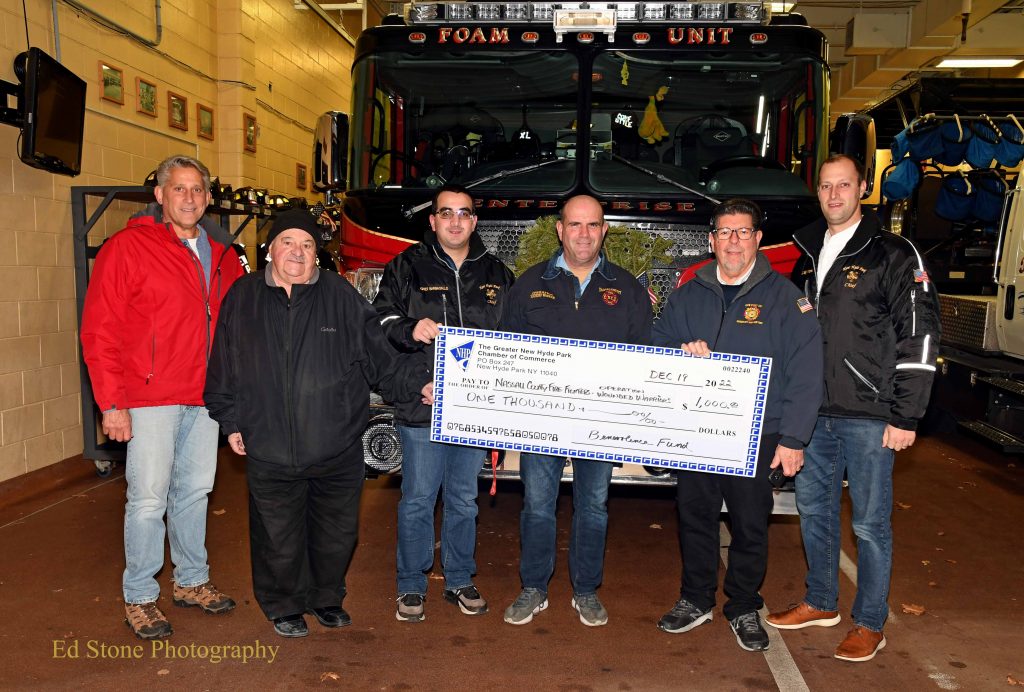 NHP Chamber Annual Food Drive
Christmas Delivery Complete!
On December 19th, the final delivery was completed for the NHP Chamber of Commerce Annual Community Food Drive.  Phase two of the collection, delivered non-perishable food items for the upcoming Christmas Holiday.  A total of 100 bags of food was delivered
to the Holy Spirit Food Pantry in NHP and the Nassau County Veterans Service Agency.  All receiving Organizations were truly touched by the amazing generosity of our residents, businesses, and Chambers members.  With the increase in need, proceeds were welcome and will make a significant impact in helping community members affected by current economic hardships.  During this year's drive, a total of 175 bags of food were delivered and was by far, the largest collected to date since the inception of the drive.  Thank you to all our business which participated as drop locations— ACE Hardware, American Community Bank, City Line Florist, Flushing Bank,  Gourmet Bake Shop, Harbor Child Care, M&T Bank, NY Life Insurance,  Push Fitness, Ridgewood Savings Bank,  Tutor Time Child Care, Valley Bank, and Village Hall.
Special thanks to all our volunteers who helped collect, organize, and distribute the drive proceeds and to Flushing Bank for their generous donation of $500.00 in non-perishable food items and tote bags. THANK YOU for helping our community residents!
Written by Smitha Lukose-Khan
Photos by Ed Stone Photography
Chamber Annual Holiday Party
On Thursday, December 15th, The Chamber held its annual holiday party at Jonathan's in Garden City Park.  As always, Dean and Staff did an amazing job, the food was delicious and the service was excellent. Everyone mingled, laughed and toasted the holidays, their achievements in 2022 and to a prosperous 2023.
So many prizes were raffled off.  Mostly everyone walked out with either a bottle of wine, a floral centerpiece or a gift card to a Chamber business.  Congratulations to this year's winner of our annual Ugly Sweater Contest, Michael Kearns of Maspeth Savings Bank.
Congratulations to Rich DeMartino, Chamber Past-President and Benevolence Chair who was presented with the Angela Powers Award for his dedication to the Chamber and the Benevolence Committee. Benevolence donates to various organizations annually.  Rich was not able to attend however we presented the award via zoom.
Phase I
The Greater New Hyde Park Chamber Annual Food Drive
On Monday, November 21st, the NHP Chamber Board and its members delivered a total of 70 bags of non-perishable food items in its first of two donations to local organizations within the community. Proceeds were delivered to the Notre Dame Parish Food Pantry and the Nassau County Veterans Services Agency just in time for the Thanksgiving Holiday! It was the amazing generosity of our residents, businesses, and Chambers members that ensured that the donations gathered, made a significant impact in helping community members affected by current economic hardships. The donation delivery was well staffed, organized, and efficient—thank you to all our Volunteers!
The great news is that we are still collecting for our second delivery for the Christmas Holiday. Please continue to encourage friends, family, neighbors, and local businesses to donate to this great cause. We will continue to collect donations through Wednesday, December 14th at all our designated food drive drop off locations.
Written by Smitha Lukose-Khan of Flushing Bank
Photos courtesy of Ed Stone Photography
Thank you to all that
attended the
Village of NHP Veterans Day Ceremony. 
Photos courtesy of Ed Stone Photography
November Luncheon at
Your Mother's House
On Thursday, November 17th, the Chamber held its luncheon at Your Mother's House in Garden City Park.  It was a well attended meeting with some new members that joined for the first time.  Everyone had the opportunity to introduce their business and network with each other.
Rich DeMartino and Cheryl Fajardo, Benevolence Committee, presented a a $500 check to the Colette Coyne Memorial Melanoma Foundation.  Colette Coyne spoke about how important it is to get screened for Melanoma.  Visit their website, ccmac.org for important information and free screening.
Benevolence also spoke about the Veterans Donation Drive running through December 3rd.
Photos courtesy of Ed Stone Photography
Member Appreciation Breakfast
On Thursday, October 20th, the Chamber held its Member appreciation breakfast at the New Hyde Park Diner.  There were many new members, prospective members as well as old members who attended.
All that attended had the opportunity to introduce their business and network over breakfast before the start of their busy day.
Thank you to Kenny and Staff for the amaizing breakfast and service.
Photos by Ed Stone Photography
Beautification At Its Best
Fall is in the Air
A BIG Thank You to Rich Pallisco and Ralph Ventura for transitioning the NHP Triangle to a beautiful Fall theme!  With the gorgeous mums, cabbage plants and corn stalks donated by Milenia's, it looks vivid and Fall festive.  Thank you Rich and Ralph for your leadership and Dean for his expert advisement to get it done!  NICE JOB!
Another Amazing Charity Golf Outing
It was a beautiful sunny day at Harbor Links Golf Course in Port Washington, New York. There were about 100 golfers who came out to tee off at noon.
Before tee off, the Chamber and Lions Club had an excellent buffet breakfast, and the Stretch Labs team (from the NHP location) was there to stretch the golfers so they could have a wonderful time on the course with increased range and little thought to muscle or joint pain. One of the golfers hit a 50 ft. putt!!
Ed Stone and his driver Gail Henry-Murray, carted around to get great pictures of everyone having fun on this beautiful course. Once finished golfing, everyone returned to enjoy cocktails and appetizers and was then offered a memorable dinner to honor true heroes, Mike and Mary Stein. William (Buddy) Sheehan of the Lion's Club gave a heartwarming and touching tribute to these heroes.
Our elected officials showed up to golf and dinner to present proclamations.
We must thank Chris Vulpis, Ralph Ventura Co-Chairs, and the golf committee -Mark Laytin, Richard DeMartino, Meghav Parikh, Ron Shapiro, Richard Pallisco, Richard Basulto, and Buddy Sheehan for putting everything together.  A special shout out to Richard DeMartino and Mark Laytin who offered their time and effort to collect the many prizes raffled off to raise funds for the charity. And of course, we cannot forget the following wonderful contributors to this event. President Cheryl Fajardo of NHP Chamber, Saveeta Barnes, and Lily Buonfrisco of  M&T Bank - Title Sponsor, Smitha Lukose-Khun Flushing Bank, Sheila McKeough, and Zulema Lopez -Roslyn Savings Bank, Jacqueline Ramos, and Monica Callier -Jovia FCU, Mary Mofica, and Lee Pallisco, Cellini Lodge #2206), Allyson Swidler, Faith Daniels, and Debra Gambino and the incredible businesses and members who stepped up and helped to raise the most money we have raised for our Charities. Finally, a special thank you to Dana DeSimpliciis for all her hard work to make things run smoothly.
Pictures by Ed Stone Photography
This site provides valuable information to our members and those who live, work or want to do business in
New Hyde Park, Garden City Park, Herricks and the Lake Success Commercial Parks.
We invite you to take advantage of all that we have to offer. Whether you are looking to find a local business or
grow your business locally, we are here to help.
After more than 50 years of service to the community, the one thing we have learned for certain
and seen demonstrated time and time again is that when new connections
are made, anything is possible.