Welcome to The Greater New Hyde  Park Chamber of Commerce
Welcome to the place where new opportunities are born.
Connect to a strong, vibrant business community with limitless possibilities.
Benevolence
Katie McBride Foundation
On Friday June 24,  members from the New Hyde Park Chamber of Commerce Benevolence Fund presented a donation of $1,000 to the Katie McBride Foundation.  The Foundation supports local charities including the Ronald McDonald House in New Hyde Park.
photo L - R    Cheryl Fajardo, Chamber President,  Mike McBride, Katie McBride Foundation,  Rich DeMartino,Chamber Past President,  Donna Pagano, Chamber First Vice President.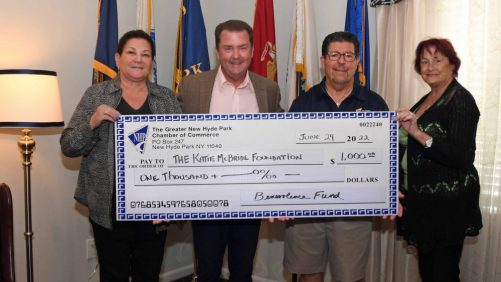 Chamber Event at Uncle Bacala's
On Thursday, June 16th, the Chamber held their Italian Feast at Uncle Bacala's.  It was an amazing turnout with amazing food, entertainment by Pat Farrell and a lot of networking.  This event has always been a great meeting.
Thank you to Peter and staff for once again going above and beyond for the Chamber.
Thank you to Ed Stone Photography for always capturing the moment.
Benevolence Scholarship Award
On June 2nd the New Hyde Park Chamber of Commerce Benevolence Fund $500 student award was presented to Sabrina DePaulis from Great Neck South High School. With a 93.4 grade average,  Sabrina excelled in her academics and extracurricular activities.
Pictured L -R
Cheryl Fajardo, Chamber President, Sabrina DePaulis, Richard DeMartino,  Chamber Past President,  Dr. Christopher Gitz, Principal.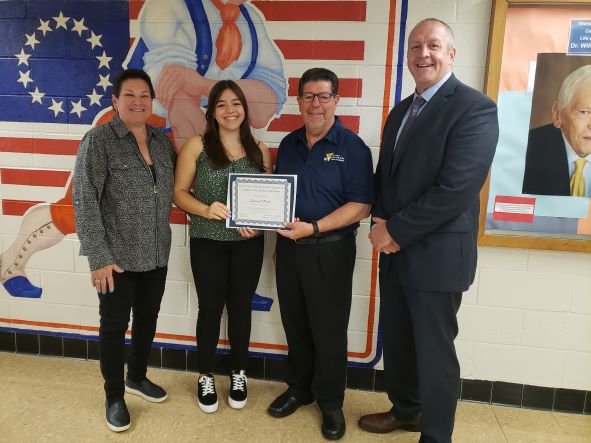 Memorial Day Parade
The Greater New Hyde Park Chamber of Commerce was present at the Memorial Day remembrances on Saturday, May 28th, under its own banner in a parade through the Village of New Hyde Park.
Monday, May 30th, we were present at the Garden City Park Fire House, in support of Chamber Past President Richard DeMartino, (also Commander of the Garden City Park (VFW Post) as he read the names of local residents who sacrificed their lives in combat, so we may live free.
May Spring Fling at The Beirgarten
On Thursday, May 19th, the Greater New Hyde Park Chamber of Commerce had their monthly meeting at The Biergarten in Franklin Square. 
The May Spring Fling was well attended and the weather was perfect.  The Biergarten did an outstanding job with their service, amazing variety of food and beer and networking on the patio in the fresh air was very relaxing.  It was great to see everyone out again. 
We held a 50/50 raffle, a portion will go towards the Benevolence Fund.
Beautification At Its Finest
Last week members of the Greater New Hyde Park Chamber of Commerce's Beautification Committee gathered on Hillside Avenue for some Spring upgrades.
First, Ralph Ventura, Rich Pallisco, and Smitha Lukos-Khan cleaned the triangle park opposite Stop and Shop with plants from Milena Garden Nursery located on Jericho Turnpike.
Later, they were joined by Dean Lykos of City Line Florist to install planters on the avenue.
Photos courtesy of Ralph Ventura
Submitted by Mark Laytin
Marketing Committee Co-Chair
Greater New Hyde Park Chamber
World Class Ribbon Cutting
DOUGLAS ELLIMAN REAL ESTATE
On Friday, May 13th, the Greater New Hyde Park Chamber of Commerce held a very well attended Grand Re-Opening ribbon cutting for the New Hyde Park Office of Douglas Elliman Real Estate, located at 1700 Lakeville Road. Originally schedule for March of 2020, it was delayed by the Covid restrictions.
Douglas Elliman picked New Hyde Park as a great business location, and the Chamber was happy to welcome them, along with many elected officials. After the ceremonial Ribbon Cutting, a catered lunch was served.
This site provides valuable information to our members and those who live, work or want to do business in
New Hyde Park, Garden City Park, Herricks and the Lake Success Commercial Parks.
We invite you to take advantage of all that we have to offer. Whether you are looking to find a local business or
grow your business locally, we are here to help.
After more than 50 years of service to the community, the one thing we have learned for certain
and seen demonstrated time and time again is that when new connections
are made, anything is possible.