Welcome to The Greater New Hyde  Park Chamber of Commerce
Welcome to the place where new opportunities are born.
Connect to a strong, vibrant business community with limitless possibilities.
The Greater New Hyde Park Chamber
Benevolence Fund Gives Back 
The Benevolence Fund was a Ride Sponsor at the Herricks Carnival over the weekend of June 2nd through June 5th.  The Herricks Community Fund raised money for the Senior Nutrition Program, Youth Council, Senior Citizen Clubs, Community Players, teacher mini-grants and special projects for the Herricks School District. 
Denton Avenue Underpass

Cheryl Fajardo, President of the Greater New Hyde Park Chamber of Commerce, joins Town of North Hempstead Supervisor Jennifer De Sena, Catherine Rinaldi, Interim President of the MTA/LIRR, and other officials at the ribbon-cutting ceremony reopening for the Denton Ave underpass. The residents of Garden City can now shop while walking to our local businesses in Garden City Park.  A win for all. 
Celebrating 25 years in business!
Hand Rolled Bagels
On Wednesday, June 29th, The Greater New Hyde Park Chamber of Commerce held an anniversary ribbon cutting for Hand Rolled Bagels located at 930 Hillside Avenue, New Hyde Park, for their 25 years in business.
Hand Rolled Bagels originally owned a store in the mid 1980s in Rego Park, Queens before moving to New Hyde Park.  Congratulations to owners Nick and Jean who have taken over this family business with the help of their spouses and have been serving the Community for years with their freshly made bagels.
Benevolence
Katie McBride Foundation
On Friday June 24,  members from the New Hyde Park Chamber of Commerce Benevolence Fund presented a donation of $1,000 to the Katie McBride Foundation.  The Foundation supports local charities including the Ronald McDonald House in New Hyde Park.
photo L - R    Cheryl Fajardo, Chamber President,  Mike McBride, Katie McBride Foundation,  Rich DeMartino,Chamber Past President,  Donna Pagano, Chamber First Vice President.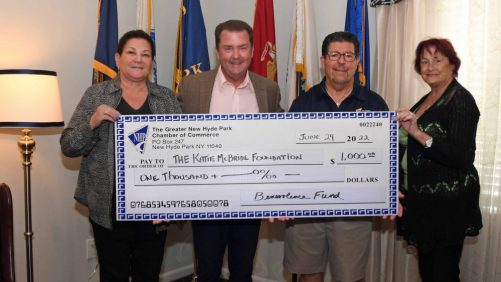 Chamber Event at Uncle Bacala's
On Thursday, June 16th, the Chamber held their Italian Feast at Uncle Bacala's.  It was an amazing turnout with amazing food, entertainment by Pat Farrell and a lot of networking.  This event has always been a great meeting.
Thank you to Peter and staff for once again going above and beyond for the Chamber.
Thank you to Ed Stone Photography for always capturing the moment.
This site provides valuable information to our members and those who live, work or want to do business in
New Hyde Park, Garden City Park, Herricks and the Lake Success Commercial Parks.
We invite you to take advantage of all that we have to offer. Whether you are looking to find a local business or
grow your business locally, we are here to help.
After more than 50 years of service to the community, the one thing we have learned for certain
and seen demonstrated time and time again is that when new connections
are made, anything is possible.