November 24, 2020
The Greater New Hyde Park Chamber of Commerce, through its Benevolence Committee, is conducting its first annual Holiday Food Drive.
In a year like no other in memory, the Chamber sought to help those experiencing unemployment, under-employment, or business closings. No one should have to choose between the necessities of life and not having enough to eat.
The Chamber made its first donation on Tuesday, November 24 to the food pantry at Notre Dame RC Church.
A second donation will be made on December 20 to the Trinity Lutheran Church.
On Wednesday, November 11th, a ceremony was held at Village Hall in New Hyde Park. Veterans Day is a day when we give thanks to those who bravely served in the military forces of the United States, sacrificing time,
and in some cases, their very lives.
On hand were local politicians, members of the American Legion, Veterans of Foreign Wars, the Boy Scouts of America, and officers and directors of
the Greater New Hyde Park Chamber of Commerce.
Attached photos courtesy of Ed Stone Photography
October 15, 2020
Members Woke Up
and
Smelled the Virtual Coffee at Today's Breakfast
Chamber members enjoyed a lively virtual breakfast and networking session this morning. Our October meeting traditionally kicks off our fall membership drive, and this year is no different. There are new benefits for those who join or renew their membership between now and the end of the year:
New members who join now receive the remainder of 2020 for free. Memberships expire at the end of December, 2021.

BONUS: Join or renew your membership before the end of the year, and be entered into a raffle to win one of FOUR $100 gift certificates redeemable at any Chamber Member Business!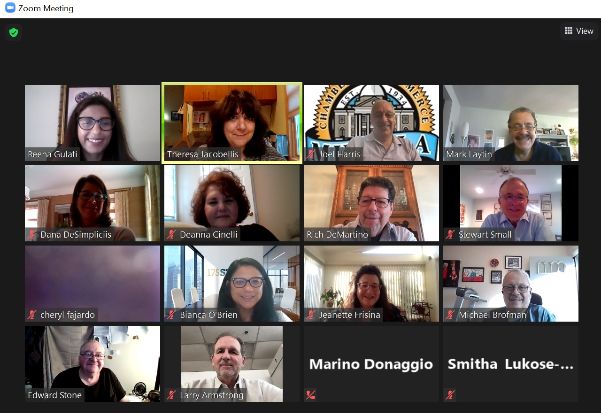 September 15, 2020
Thanks to All Who Attended
Our First In-Person
Event of the Season
KPacho did a wonderful job of providing us with a safe, socially distanced venue for our first in-person networking event since the Covid-19 pandemic began.
All who attended appreciated the opportunity to see friends and colleagues in person again!
July 21, 2020
Town Hall
with
Town of North Hempstead
Supervisor Judi Bosworth
Watch Zoom Meeting Here
On Tuesday, July 21st Supervisor Judi Bosworth joined us in our first combined meeting with the Mineola Chamber of Commerce, to discuss and update the Chambers and their members as to the current developments in the Town of North Hempstead, including application for street closures, the successful opening of the Clinton G. Martin pool and the current status of programs for our seniors.
July 9, 2020
Town Hall
with
Nassau County Legislature
Rich Nicolello
On Thursday, July 9th, the Presiding Officer of Nassau County, Rich Nicolello participated in our Chamber Zoom meeting, giving us information on current happenings in Nassau county legislature, addressing the needs of our Members and answering their questions. In our pursuit to get different elected community leaders to speak to our chamber during these trying times, Rich shared with us helpful ideas in dealing with this crises.
June 24, 2020
Town Hall
with
Nassau County Executive
Laura Curran
On Wednesday, June 24th, NHP Chamber President, Reena Gulati, hosted a Town Hall ZOOM meeting with Nassau County Executive, Laura Curran.  The meeting opened with Evelyn Etsimis, Assistant Nassau County Executive for Economic Development followed by the County Executive, Laura Curran. Most of the attendees were business owners, as well as chamber members and local politicians, who had questions and/or issues with the reopening of the economy, as we are moving through the various phases.  The meeting was informative and the local business owner's especially those with new restrictions on re-opening were glad to have the opportunity to be heard!
June 18, 2020
June Zoom Meeting
Take Main Stream Online:
Add E-Commerce to your Business
Did you catch our special presentation by Tyler Jorgensen on creating a digital presence for your business? Tyler provided actionable tips for ensuring that our businesses are found among the busy online environment.
Email us for a copy of his presentation. info@nhpchamber.org.
May 21, 2020
May Zoom Meeting
A Virtual Round Table Discussion
Maintaining Social Distancing In Business
Our Zoom Virtual Roundtable Meeting! We, like all businesses, are adjusting to the new reality. It was good to get the pulse of our business community.
A big thank you to the Mayor of the Village of NHP for joining in as well! The mood seemed cautiously optimistic. Those businesses currently servicing their clients are adopting social distancing measures while using personal protective gear to inspire confidence from their customers as they try to grow their business.
As you open up, please follow the guidelines in https://forward.ny.gov/industries-reopening-phase
As always - Stay Safe, Stay Positive!